Gifts started to pour in with just 3 days before Christmas. This year, I'm starting this custom of gathering our gifts together and unwrapping them on Christmas day. My daughter has been itching to open her gifts but I told her to just be patient and wait for Christmas of which she agreed with a little pout. She was overwhelmed with the all her gifts under our tree which I'm sure will increase as we approach the 25th.
I'm done with my Christmas shopping and I'm expecting a fat credit card bill by the end of the month. But it doesn't matter as long as I make a lot of people happy this season. It's such a nice feeling receiving gifts but it felt more wonderful to give away gifts. I was a bit annoyed at our office version of exchanging gifts though as some really didn't feel like giving. It's supposed to be "exchanging gifts" not "receiving gifts". Some of my colleagues took the pleasure of receiving their gifts and yet didn't even bother to give anything to their manita/manito. I was ranting about this the week after our christmas party as I still didn't receive my gift NOT until yesterday. Good thing, the girl who picked my name finally realized that she still owe somebody a gift --- after an email reminder from our HR hehehe.
So, here's a word for my sponsors for the fabulous gifts this year.

THANK YOU...

* Ms. Delia for the timex watch
* PASAP for another timex watch and a lot of goodies
* Ms. O for the bedsheet --- just what I really need
* Jocelyn for the brown top
* Sylvette for the funky bracelet
* Paul & Tracey for the cinema tickets and box of chocolate
* Cheryl/Ng Khai for the mug
* Lu/Globe for the bag of goodies
* Jon for the vase
* Analaine for the bangles
* Gail for the purse
* Cha-cha for the gift (I haven't opened it yet)
* Imelda for the bowl/storage container
* Joy Creer for the Blue Magic gift (finally!)

If I miss your name --- THANK YOU!
More to come...and I'm still accepting gifts until next year.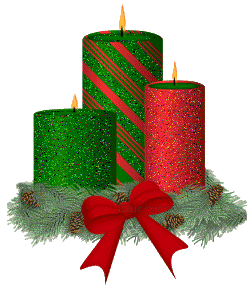 glitter-graphics.com

HAPPY HOLIDAYS!!!